Far infrared heating series
The human body, as well as various articles produced by humans, as long as its temperature is higher than the absolute temperature (-273 ° C), there are irregular movements of molecules and atoms, and the surface can continuously emit infrared rays.
Reflection and absorption
Swarin® absorbs and reflects the infrared rays emitted by the human body, so that the fiber itself generates heat, compensates for the loss of heat generated by the external environment, and maintains relatively stable body temperature.

Scientific selection of natural ore with the most performance and cost-effective advantages

Special grinding process to make natural ore into nano-sized powder masterbatch, increasing far-infrared reflectance specific surface area and uniformity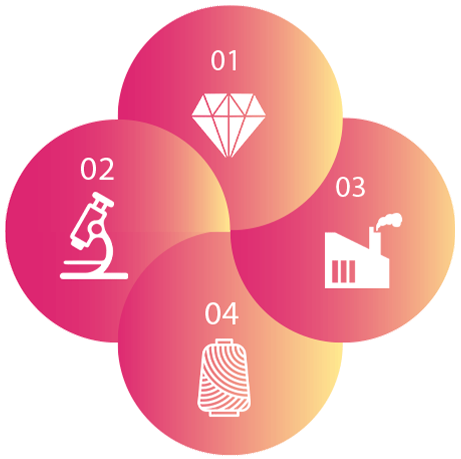 Advanced blend spinning process to ensure yarn quality stability

Special texturing process to impart a change in yarn style (elasticity, floral ash)

The addition of natural ore particles in the fiber causes the surface of the fiber to be porous, the surface area is increased, the surface activity and the adsorption and diffusion of the surface state are obviously improved, so that the product has the functions of sweat absorption and sterilization.

Make use of heat radiation from living organisms to absorb and store the ability of the outside world to radiate to the organism, so that the organism produces a "greenhouse effect", prevents heat loss, and plays a good thermal insulation effect.

The heat absorbed by the skin can be circulated through the medium and blood, so that heat can reach the body tissues and promote blood circulation and metabolism.