The far-infrared absorbing material is uniformly infiltrated into the internal structure (amorphous region) of the fiber molecule, thereby enhancing the absorption of external infrared rays such as sunlight.
Light energy convert into heat energy
Swarin® heat-insulating fiber converts the absorbed infrared and visible light into heat energy, so that the fiber itself generates heat, compensates for the loss of heat generated by the human body due to changes in the external environment, and maintains relatively stable body temperature.

Scientific selection of natural ore with the most performance and cost-effective advantages

Special grinding process to make natural ore into nano-sized powder masterbatch, increasing far-infrared reflectance specific surface area and uniformity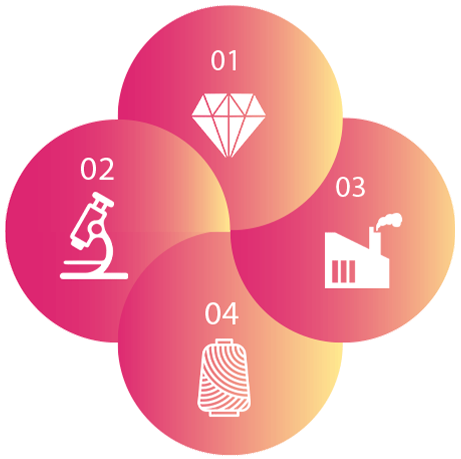 Advanced blend spinning process to ensure yarn quality stability

Special texturing process to impart a change in yarn style (elasticity, floral ash)

It is 3-10 degrees higher than the ordinary fabric of the same category, and the light energy is efficiently converted into heat energy, thereby achieving the effect of heating and heating.

Absorbs ultraviolet light from the sun, preventing UV rays from penetrating directly into the garment
Under the action of a certain light intensity, the textile converts, absorbs and stores light energy and heat energy, so that the energy in the material is gathered, the temperature is raised, and the energy exchange with the surrounding environment is continuously carried out to reach a state of balance. Therefore, according to this characteristic, a certain area of the sample is placed under a certain irradiation intensity, and the temperature change of the fabric is measured to obtain the heating curve of the material. The light absorption and heating properties of the fabric.